About Us
For Landlords
Organizations
Hunting Leases
Photos
Links
Home Page
EMail:
john@cloarfarms.com
Phone#
731-285-8459
Cell#
731-334-2810
Cloar Farms
422 Nauvoo School Rd.
Dyersburg, TN 38024

PROSPECTIVE LANDLORD INFORMATION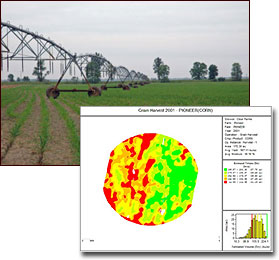 Farming in many ways is just like any other business. There is a desire to expand and grow your operation. I am contacting you for that reason. In agriculture that growth is directed toward the renting of land that can provide increased profits both for me and the land owner.

I currently operate a row crop operation in Dyer and Obion counties based on the production of corn, soybeans and wheat. The production of corn and soybeans receive the main emphasis with wheat added in when the economics show that it is a profitable addition. My family is also involved in a cow calf and feeder calf operation Obion County.

As agricultural science moves forward at an increasingly accelerated pace I try to make use of new and improved technology. I have several years of experience with center pivot irrigation. My investment in irrigation has allowed me to increase my yields and income on land which is suitable for irrigation. Continuous improvements in my irrigation management have allowed me to win or place in the National Corn Growers yield contest for the last four years. This year's crop is off to a very good start and I hope to repeat in this years contest.

Farming is like many other businesses in that decisions in Washington DC can sometimes have more influence on farm income than almost any other factor. I believe in supporting our farm organizations and am a member of the American Soybean Association, National Corn Growers Association and the American Farm Bureau. I currently serve as President of the TN Corn Growers Association and on the national level serve as a member of the Grower Services Action Team with the National Corn Growers Association. I am a past board member of the Dyer County Farm Bureau.

In addition to renting land I also provide a variety of custom farming services. Among these that can be provided are planting, harvest and mowing.

Please contact me at the numbers listed on the front page if you have any questions. As I said earlier I am always looking for new landlords looking to try and increase the return on their rented land.

Sincerely,
John Cloar

SOME OF OUR PRACTICES

Experience with center pivot irrigation is used to maximize yields and profits.

Combine is equipped with a yield monitor and gps to gather all available harvest data.

Equipment is late model and well maintained to provide the timeliness needed to plant and harvest a successful crop.

Conservation tillage is used when possible to preserve the soil and provide maximum benefit for wildlife.

Yield maps are used to make decisions for future improvements.
FOR MORE INFORMATION...email me here, or call 731-285-8459